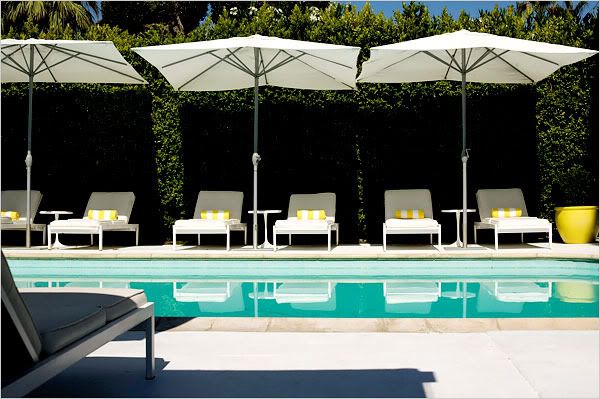 detta
vackra hem som ägaren har valt en stil och följt den fullt ut - inte ett enda snedsteg, alla rätt. Geometriska mönster, speglar och glas, starka, utmärkande färger och symmetri, symmetri, symmetri. Imponerande nog är det mesta inhandlade second-handfynd.
Ja, vad ska man säga? Jag vet att inte alla tycker om denna stil, men jag- jag faller som en fura! Jag hade kunnat flytta rätt in och leva lycklig resten av mina återstående dagar. Tyvärr hade nog inte H följt med, så jag får leva ut min Hollywood regency-besatthet genom kuddar och en och annan tapet i framtiden. Och här på Designfragment, såklart!
Bilder
NY Times
.
In Palm Springs, California, we find this beautiful home where the owner has chosen a style and stuck to it - not one mistake has been made.
Geometric patterns, mirrors and glass, fierce, distinctive colors and symmetry, symmetry, symmetry. Most impressing is the fact that most of the pieces are bought second hand.

Well, what can I say? I know this style is not to everyone's liking, but I; I am loving it. I could move right in and live happily ever after. Unfortunately, H would probably not be moving in, so I am forced to feed my Hollywood Regency-frenzy with solely pillows and the occasonal wallpaper in the future. And here on Designfragment, of course!



Pictures

NY Times

.